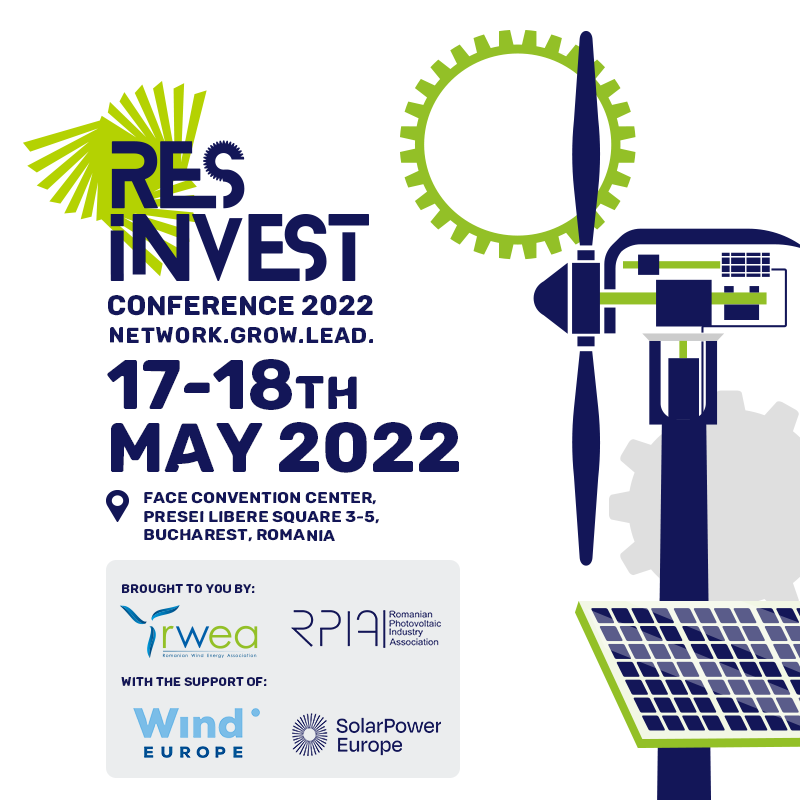 RESinvest conference 2022 is the premier event that will bring together EU Commission leaders, national government authorities from across Europe and wind and solar industry bright minds in a common call to action: attracting and developing a robust renewable energy supply chain in SEE, and capturing the immense economic opportunity that comes with it.
As clean energy capacities are growing multifold throughout Europe, the supply chain is increasingly under pressure, and SEE must play its part in rendering it more efficient – RESinvest is about how to meet this demand.
There are two main reasons for an inevitable industrial RES near-shoring to SEE. The first is the EU Green Deal pushing an unprecedented second wave of wind and solar energy investments in the region by 2030. And the second is a simple equation of time and money, with OEMs and producers looking for functional markets to bring their business to in order to shorten equipment delivery times and keep pace with overseas competition. Our distinguished guests will shed light on both, from offering a clear investment forecast, EU & national financial mechanisms, to which subsegments of the value chain are poised to set off, not in 2023, not in 2030, but NOW!
RES Capacity in Romania Will More than Double by 2030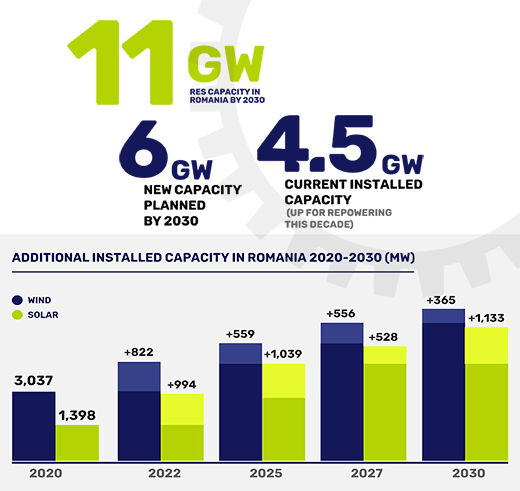 Meet potential buyers, investors and collaborators through 1:1 meetings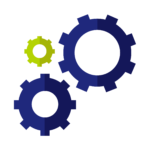 Identify new commercial & investment opportunities that can be captured in SEE's bustling market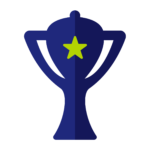 Join the bandwagon as SEE is stepping at the forefront of supply chain development
AGENDA
Day 1 - May 17th
09:00 - 17:00
Registration & Welcome Coffee
Welcome to RESinvest 2022
Opening Words: Carlo Pignoloni, President, RWEA
Introducing the timely development of a RES value chain in SEE, filling the supply gap for a rapidly evolving industry that will more than double by 2030 and near-shoring raw materials, equipment & services currently coming from outside Europe.
High Level Representatives from:
Romanian Presidency & Government
European Commission
ANRE
10:50 - 11:45 | Followed by Q&A session
Panel I - RES made in SEE
Investment forecast, EU and national financing mechanisms and their impact on the European RES supply chain.
The coming decade will see the European Green Deal ambitions come to life, and a suite of EU funds made available to move the continent closer to becoming carbon free. Our distinguished speakers will analyze SEE's contribution to the broader European goals and the timely opportunity for developing a regional RES supply chain.
Speakers - High Level Representatives from:
Ministry of Investments & European Projects, Romania
Ministry for the Environment and Energy, Greece
EU Commission, DG Energy
European Bank for Reconstruction and Development (EBRD)
Giles Dickson, CEO WindEurope 
12:15 - 13:00 | Followed by Q&A session
Panel II - Romania's Case Study
Existing suppliers & manufacturers and ways to continue developing a healthy national RES supply chain.
By 2030 Romania will more than double its RES capacity (wind+solar) which will generate an unprecedented demand for services and equipment. Repowering works are also set to start during this decade, adding to the needed resources. This panel will discuss the economic value that can be created in the process and explore ways for Romania to capture a relevant share of it.
Speakers - High Level Representatives from:
Ministry of Economy, Romania
Professional Reconversion Center, Romania
Radu Dudau, CEO, Energy Policy Group 
14:00 - 14:50 | Followed by Q&A session
Panel III - Stronger Together
The value of a collaborative EU approach, and learning from industry best practices.
Across the continent, the RES industry has moved from a niche segment to a pillar of energy and economic systems. This panel will delve into the many lessons that have been learnt along the way, highlighting case studies of successful supply chain expansions throughout a variety of European countries.
Speakers - High Level Representatives from:
Spanish Wind Energy Association (AEE)
Polish Wind Energy Association (PWEA)
Portuguese Renewables Association (APREN)
Representative, SolarPower Europe
Wine & Networking Session

*Additional speakers are in the process of being confirmed
WORKSHOPS
Day 2 - May 18th
10:00 - 12:30
Clean Hydrogen in Romania: Elements of a Strategy
ONLINE EVENT
A 2h30min workshop focused on communicating to a non-specialist audience, making an introduction to clean hydrogen, debunking myths, and outlining elements of a national hydrogen strategy:
What is clean hydrogen and why is it a central point in Romania's decarbonization plans?

Can CCS contribute to developing a hydrogen market?

The economics of clean hydrogen

What are the most efficient uses of clean hydrogen?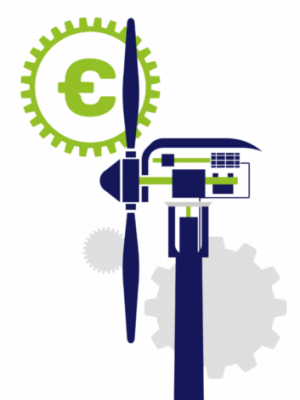 HYBRID EVENT
A 2h30min workshop that will examine the core financing opportunities for renewable energy projects in Romania. Major commercial banks, renewable energy industry representatives & relevant public authorities will come together to discuss:
What are the core EU funds available for RES development and how can Romania best make use of them?

How do banks envision their role in moving the RES sector forward? 

What is the present framework for green financing in Romania and how can it help speed up the road towards decarbonization?